Opening ceremony of Bel Ga Tay Ninh Hi-Tech Poultry Hatchery
(VEN) – On the morning of April 17, 2021, at Thanh Thanh Cong Industrial Park, An Hoa Ward, Trang Bang Town, Tay Ninh Province, Bel Ga Joint Stock Company (Belgium Kingdom), De Heus Group (The Netherlands), and Hung Nhon Group (Vietnam) solemnly held the opening ceremony of Bel Ga Tay Ninh Hi-Tech Poultry Hatchery. The factory is part of the supply chain of clean, sustainable, and export-oriented agricultural products belonging to Bel Ga Company, De Heus Group, Hung Nhon Group and strategic partners.
Bel Ga is a Belgium market leader with more than 80 years of experience in producing premium day-old chicks in Europe. Established in Vietnam since 2013, Bel Ga currently has 4 hatcheries and 2 incubation factories with a modern self-contained farming process according to GlobalGAP standards, providing more than 35 million premium day-old chicks for Vietnamese and Cambodian markets every year.
Possessing strong potentials and unique experiences and visions, in September 2017, Bel Ga and De Heus LLC, Hung Nhon Group, Koyu Unitek Company and partners were successful in building the value chain of clean chicken with traceability according to GlobalGAP standards, ISO 22000 that meets conditions to export clean chicken products to the Japanese market – one of the most demanding markets in the world.
Following the success of Bel Ga Incubation Factory in Lam Dong Province, Bel Ga Joint Stock Company continues to invest in building the second Bel Ga High-tech Hatchery in Tay Ninh Province – the province belongs to the key economic region of the South Vietnam, with the advantage of a temperate climate, relatively flat topography, and undeniable potential for comprehensive development in agriculture, industry and construction.
Mr. Kris Van Daele – General Director of Bel Ga Vietnam and Cambodia, said that this position contributes to improving the quality of broilers, helping to reduce the pressure on chicks due to long-distance transport, because from now on, the time of transporting chickens to the Mekong Delta areas is only about 4-5 hours and to Cambodia is only in 1 hour. In addition, the distance from Tay Ninh to Ho Chi Minh City is also very short, so it is possible to transport chickens by air to the North in the fastest way, this is the premise for Bel Ga development in the North of Vietnam, as well as ensuring providing a source of good quality chicken seed in the chain of the parties in the North of Vietnam.
Bel Ga Tay Ninh Poultry Incubation Factory has a total investment of VND200 billion, with a total area of ​​15,000sq.m and the design capacity of over 19 million chicks per year in the phase I and will expand the capacity up to 38,4 million chicks per year in the phase II.
The main products of the factory are day-old chicks and day-old layers, of the best quality to meet the demand of famers in Vietnamese and Cambodian markets.
Bel Ga breeders are sourced from the world's leading breeding companies, Aviagen and Hendrix Genetics, which are hatched using the most advanced modern European technology. Bel Ga Tay Ninh factory is considered as a unique factory model with the application of many advances in technical innovations of construction design, including facilities for farms and hatcheries which meets the European standards, thanks to the support of leading experts and technicians in the world.
All technologies used in the factory are applied management techniques that uses information technology systems to ensure the efficiency and accuracy of information in the production process.
The day-old-chicks products of Bel Ga Tay Ninh will ensure the highest standards according to GlobalGAP standards through the management and strict control of biosafety in livestock and the production, quality monitoring of incubation eggs and GP farms with low stocking densities, combined with effective temperature control through modern incubation machines helpful in the creation of optimal environment to ensure that the best 1-day-old chicks are always produced and traceable throughout the entire production chain.
At the grand opening ceremony of Bel Ga Tay Ninh High-Tech Hatchery, Bel Ga Company, De Heus Group, Hung Nhon Group contributed VND500 million to Covid-19 prevention fund in Tay Ninh Province; donated 01 ambulance worth VND1 billion to Tay Ninh Young Business Association and donated VND300 million to the Fund for the Poor of Trang Bang Town to build "Dai Doan Ket" House for families in extremely difficult circumstances. The total sponsorship value is VND1.8 billion.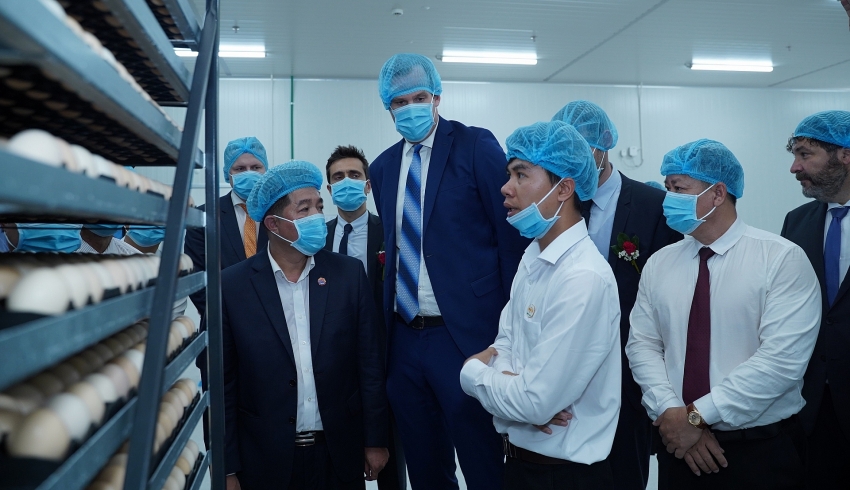 In recent years, Vietnam's poultry production has made great leaps in both productivity and product quality. Fully complying with the guidelines of the government and ministries as well as orientations of provinces, the Bel Ga Tay Ninh Poultry Incubation Factory was built, promising to become a strategic knot, contributing to the development of the value chain in livestock production of high-quality breeds, clean meat production with traceability and export standards, bringing many benefits to Vietnamese farmers and consumers.
In Tay Ninh Province, Bel Ga Company, De Heus Group, Hung Nhon Group and strategic partners have selected a convenient location in Tan Hoi Commune, Tan Chau District and Phuoc Binh Commune, Trang Bang District to continue investing in building 1 agricultural complex of hi-tech application, including 2 parent chicken farms (with a capacity of 25 million eggs / year), 250 safe broiler farms (with a capacity of 25 million broilers / year), and a complex of factories producing and processing high quality agricultural products in a closed chain. The total investment for these projects is expected to be about US$141.5 million (equivalent about VND3.325 trillion).
The entire breeding process at the project will be operated and monitored closely according to the European standards to help control the quality of livestock in the area, optimize livestock performance, and reduce product costs and achieve high economic efficiency. The project is equipped with a system of Europe's leading automatic production lines, which are strictly operated and supervised by international experts.
Once completed, the project will become a high-tech application center in broiler farming for export in a closed chain, including Supply of broilers, broiler rearing, slaughtering, and trading meat products. Top quality chicken in Vietnam, with outstanding economic efficiency, ensuring food safety and hygiene, friendly with the environment according to ISO, HACCP and other international specialized standards. The project also creates job opportunities for about 350-500 local workers and transfer of advanced breeding technology to hundreds of workers, contributing to promoting the development of high-tech agriculture in the locality.
The inauguration of Bel Ga Tay Ninh High-Tech Poultry Incubation Factory and investment cooperation of a hi-tech agricultural complex in Tay Ninh will help Belga Company, De Heus Group and Hung Nhon Group promote fully the available strengths of the units, expand and perfect the high-tech livestock chain in accordance with the orientation of the development of the agricultural economy with the application of modern technologies, which is being specially concerned by the government and ministries. At the same time, it reaffirms the long-term vision of Bel Ga Company, De Heus Group, Hung Nhon Group and partners in the mission of contributing to the development of a sustainable and prosperous Vietnamese agricultural sector, improving the quality, added value and competitiveness of agricultural products; environmental and ecological protection; improve incomes for people in rural areas; ensure food security and national defense security in Vietnam; contribute to improving the position of Vietnam's livestock industry, creating high-value products that are competitive in the international market.