Bel Ga was established in 2013 in Vietnam and in 2017 in Myanmar, specialized in producing Day Old Chickens and Day Old Layers for Vietnamese, Burmese and Cambodian farmers. These chicks originate from breeding companies Aviagen and Hendrix Genetics.
Bel Ga is strongly supported by two family-owned European companies, which are highly experienced in the poultry business.
De Heus Group, a worldwide supplier in producing animal feed product with more than 100 years of experience.
Belgabroed is Belgium market leader in producing premium day old chicks, day old layers and hatching eggs. They are one of the key players in Western Europe with more than 80 years of experience.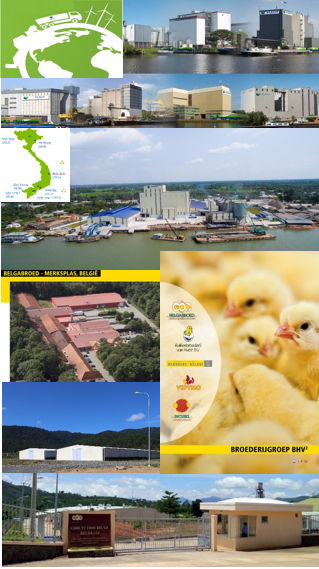 GLOBAL GAP CERTIFIED
In 2016, Bel Ga is the first and only holder of a GLOBALG.A.P. Poultry IFA (Integrated Farm Assurance) version 5.0-2 Standard Certificate in Vietnam for broilers. This is a milestone for our company and a good opportunity to show our commitment to our customers by producing premium quality products under the Bel Ga name while protecting the environment during production. Every year Bel Ga PS farms and hatchery have been continued getting GLOBAL G.A.P certified in order to ensure for safe and traceable poultry products along the entire value chain.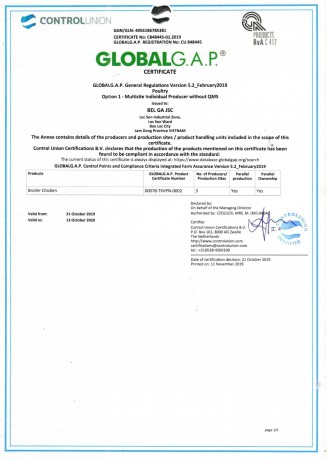 Hatchery
Bel Ga Hatchery in Plot No 312, 313, 314, Myaung Dakar Industrial Zone, Hmawbi Township, Yangon, Myanmar.
Head Office
Loc Son Industrial Zone, Bao Loc City, Lam Dong Province.
Head Office
Myaung Dakar Industrial Zone, Hmawbi Township, Yangon, Myanmar.