The journey of Bel Ga day-old chicks on the first Heering 45 truck in Vietnam
On May 7, 2022, for the first time in Vietnam, Bel Ga brought the Heering 45 truck into operation to transport day-old chicks. This is the world's most modern poultry transport truck imported by Bel Ga directly from the Netherlands with many modern features surpassing previous standard trucks and is also the first Heering truck operating in Vietnam.
With this first shipment, Bel Ga successfully transported 21.000 day-old chicks to Mr. Nguyen Van Ngoc's farm in Vinh Cuu, Dong Nai. After a journey of 150km, within nearly 4 hours of transport, the chicks arrived at the farm in active condition and without any quality loss.
The truck has a transport capacity of 55.000 day-old chicks. This is a relatively small truck, which means it allows us to access remote farm locations that are usually inaccessible by larger DOC trucks. This means it offers an optimal balance between versatility and storage capacity.
The Heering 45 is proven effective under extreme climate and road conditions. As day-old chicks are not yet fully able to control their body temperature, an ideal mobile hatchery environment is needed. We create this environment in all our transport systems, with a precise control of air speed, air temperature and heat production. Every Heering transport unit has a specially designed airflow system that distributes air evenly over all chick boxes or egg trolleys. Heat, water vapor and CO₂ are removed through air outlets and a recirculation duct. This way we keep the body temperature of all chicks between 39,5 and 40 ̊C, maximizing the quality upon arrival.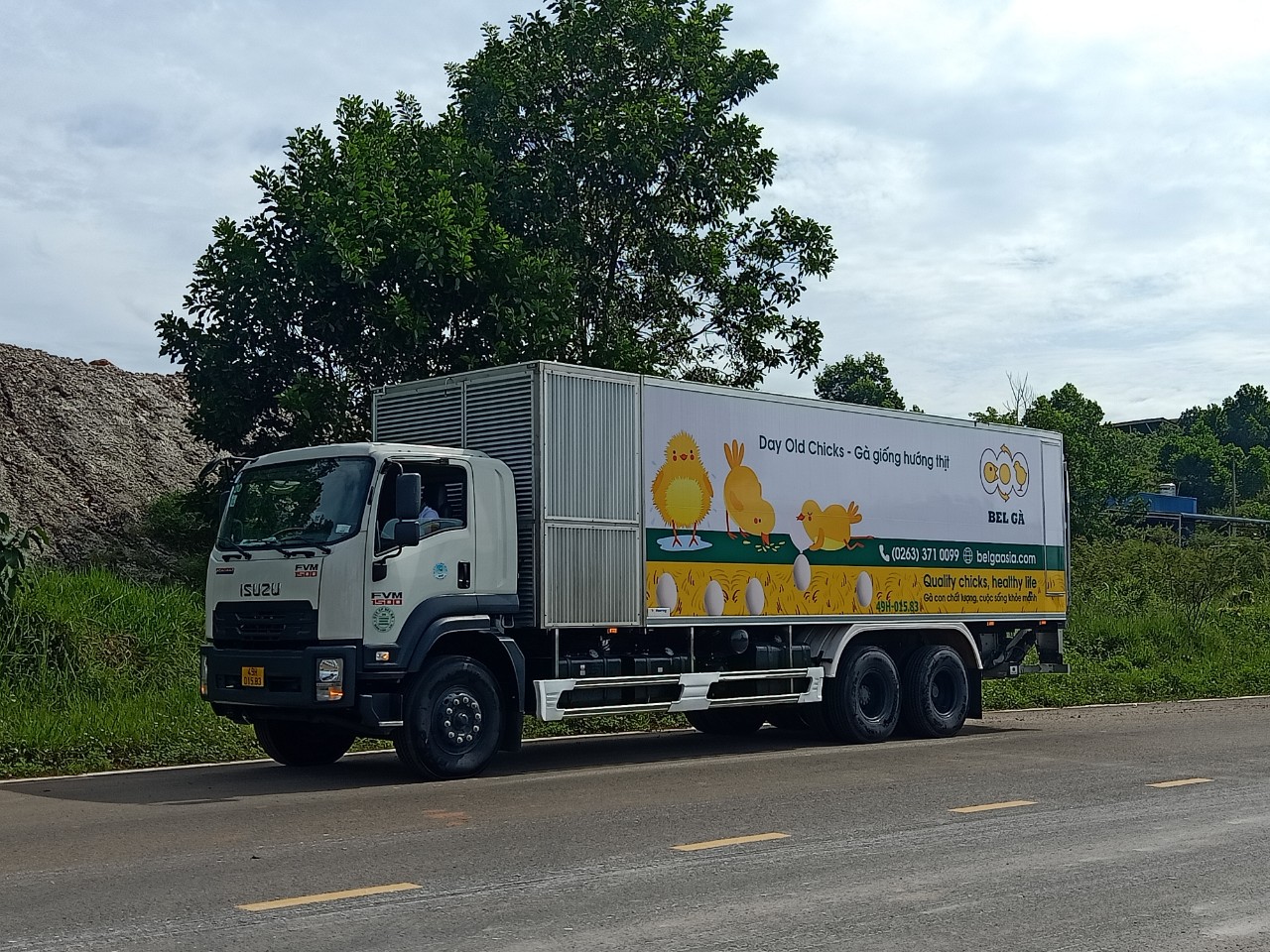 Mr. Kris Van Daele, Operations Director Bel Ga Asia said: "Bringing this truck into operation will improve our long-distance chick deliveries from the South to the North of Vietnam without compromising chick quality. Thanks to the technology installed in the truck, the chicks do not lose weight and will ensure a good and healthy start, which is the basis of a healthy flock."
Currently, Bel Ga operates 4 farms and 2 hatcheries (in Lam Dong, Binh Thuan and Tay Ninh provinces) with its headquarter located in Lam Dong province. The farms and hatcheries are all equipped with the most modern equipment around the world, according to European standards, creating an ideal environment for eggs to hatch into healthy chicks. Imported parent stocks day- old-chicks – Ross 308 and Bovans Brown – are supplied by global leading poultry genetics organizations; Aviagen and Hendrix Genetics. It takes knowledge, passion and dedication to produce premium quality chicks for our customers. Our job is not finished after our chicks are delivered to the farms and we continue to share our knowledge to help our customers achieve the best results by giving advice and providing improvements on technical management. For this reason, Bel Ga has set the benchmark for high-quality chicken genetics in Vietnam and other countries in Southeast Asia.